Region:
TECH-MASTERS Austria
TECH-MASTERS Germany
TECH-MASTERS Croatia
TECH-MASTERS Czech
TECH-MASTERS Poland
TECH-MASTERS Slovakia
TECH-MASTERS Hungary
TECH-MASTERS Romania
TECH-MASTERS Slovenia
TECH-MASTERS Italia
TECH-MASTERS Group
Breeze
BREEZE is a highly concentrated, water soluble,
highly long lasting, liquid deodorant concentrate. BREEZE eliminates undesirable odors and is non-staining.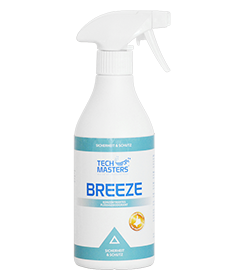 Highly Concentrated
Very Economical – a few drops will eliminate most odors.
Water Soluble – Non-Staining
Leaves No Residue
Environmentally Safe
Multi Functional
Readily Biodegradable
Leaves pleasant, fresh fragrance with a hint of Moschus
Long-lasting
Suitable for air conditioning devices
Ready-to-use
Pump Spray
| Article nr | Name | Content |
| --- | --- | --- |
| T405001 | BREEZE | 500ml |
Technical data
Application and usage
Downloads
Type: Liquid.
Odor: Pleasant.
Color: Clear.
PH Factor: 6.5 – 7.8.
Flash Point: 36°C.
Flammable: No.
Biodegradability: Yes.
Shelf life: 12 month.
Safety measures: consult the Safety Data Sheet.


BREEZE is recommended for use in toilets, wash rooms, disposals, garbage cans, pet beds and litter boxes, mop buckets and automatic scrubbers. It is a highly effective deodorizer in carpet cleaning shampoo and can also be used in laundries to remove offensive odors from clothing. Very effective to stop odors caused by: urine, smoke, pets, mildew, vomit, garbage, beverage smell, musty odors, etc.
General Use:
A few drops in toilets, garbage cans, air conditioning filters and other enclosed areas eliminates malodors and leaves a refreshing aroma.
Used Cars: Dilute one part of BREEZE with one part of water and spray interior of older cars to eliminate musty odors and beverage smells.
Carpets: Add 16 ml per liter of shampoo solution to eliminate odors associated with urine, vomit, smoke and mildew.
Nursing Homes and Hospitals: Two drops in bed pans, portable toilets, and drainage bottles will eliminate malodors.
Laundry Rooms: A small amount of BREEZE added to the wash water deodorizes a large load of laundry.
Mop Buckets or Automatic Scrubbers: 8 ml per liter of scrub water will eliminate odors.
NOTE: If the dilution is more than 1:1, do not store the diluted version longer than 2 days.