Region:
TECH-MASTERS Austria
TECH-MASTERS Germany
TECH-MASTERS Croatia
TECH-MASTERS Czech
TECH-MASTERS Poland
TECH-MASTERS Slovakia
TECH-MASTERS Hungary
TECH-MASTERS Romania
TECH-MASTERS Slovenia
TECH-MASTERS Italia
TECH-MASTERS Group
Sensor Tape
THE SENSOR TAPE protects sensors during
bodywork. Pre-cut and with handy tab for easy application and invisible removal.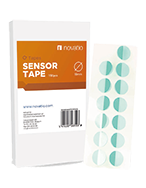 Simple to apply.
Heat resistant to +180 °C.
Simple to remove.
Leaves no adhesive residues.
| Article nr | Name | Content |
| --- | --- | --- |
| N563500396 | Sensor Tape | 150 pads |
Technical data
Application and usage
Downloads
Carrier: PET.
Adhesive: silicone adhesive.
Diameter: 18 mm.
Thickness: 0.09 mm.
Tensile strength: 9.5 N/25 mm.
Elasticity: 90%.
Temperature resistance: from -40 °C to + 180 °C.
Solvent resistance: good.
Shelf life: 12 months, dry, cool and frost-free.
Safety measures: please see the material safety data sheet.
Temperature for use: between +10 °C and +49 °C.
Apply to dry and clean sensors.
Press lightly.
Pull the tab for easy removal.